04.08.2020
Sergey Shoygu inspects state defense order progress at Kazan Aircraft Factory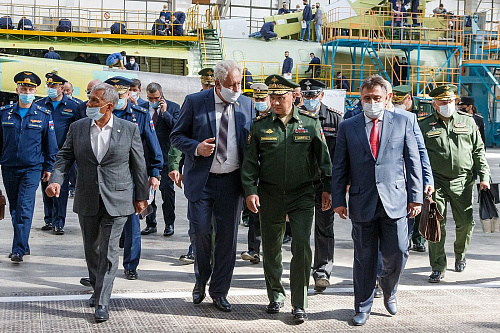 During his working visit to Kazan, Minister of Defense of the Russian Federation General of the Army Sergey Shoygu inspected the fulfillment of the state defense order at the Kazan aircraft factory (KAZ) named after S.P. Gorbunov – Tupolev PJSC affiliate (part of UAC PJSC under the control of Rostec State Corporation). Shoygu inspected production facilities where repair and modernization of long-range Tu-160, Tu-22M3 aircraft are being carried out and manufacture of new Tu-160 aircraft has been resumed. The head of the military department was also informed about the upcoming transfer of the completely modernized Tu-160 aircraft for the next tests.
Sergey Shoygu, Minister of Defense of the Russian Federation:
- It is important to maintain the technical serviceability of the Strategic Air Force aircraft fleet. Although everything is going according to the schedule in this matter, it is necessary to maintain the aircraft equipment at the proper level; this work must be continued with the proper quality.