5.03.2020
Yuriy Borisov inspects the state defense order progress at KAZ named after S.P. Gorbunov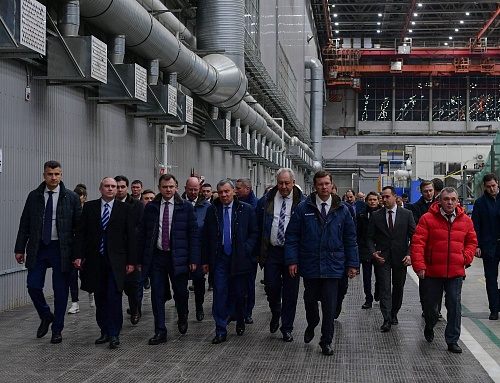 On March 4, 2020, Yuriy Borisov, Vice Prime Minister of the Russian Federation, made a working visit to Kazan aviation factory named after S.P. Gorbunov – Tupolev PJSC affiliate (part of UAC PJSC). Yuriy Slyusar, General Director of UAC PJSC, and Alexander Konyukhov, General Director of Tupolev PJSC, showed the Vice PM round during the inspection of the production facilities.
Yuriy Borisov was informed on the progress of the state defense order within the current contracts for repair and modernization of Tu-160 and Tu-22M3 combatant aircraft, plans for execution of the re-production program for new fully modernized missile carrier bombers.
Alexander Konyukhov reported to the Vice PM of the Russian Federation about the results of the maiden flight of the first prototype of fully modernized Tu-160M missile carrier bomber, which is based on the combatant Tu-160. During the flight, which took place on February 2, necessary tests of upgraded systems and equipment installed as part of full modernization of the aircraft were conducted. The tests have run in the normal mode.