17.02.2020
Ministry of Industry and Trade and Rostec leaders personally thank Tupolev PJSC staff for successful Tu-160M flight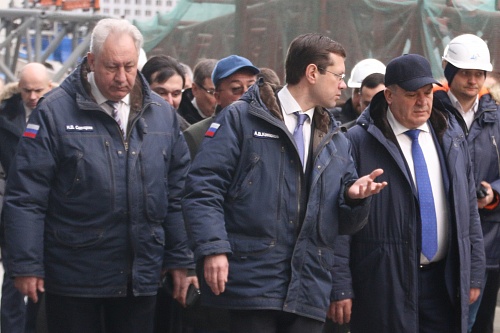 On February 14, Oleg Bocharov, Deputy Minister of Industry and Trade of the Russian Federation, Alexey Pesoshin, Prime Minister of the Republic of Tatarstan, and Anatoliy Serdyukov, Aviation Cluster Industrial Director of the Rostec State Corporation, visited Kazan aviation factory named after S.P. Gorbunov – Tupolev PJSC affiliate. The visit followed the maiden flight of the new fully modernized Tu-160M strategic missile carrier. The aircraft prototype performed its first flight on February 2, 2020.
"The successful flight of the Tu-160M prototype became possible for Tupolev PJSC owing to the responsible attitude to the program both from the company staff and from our contractors," says Alexander Konyukhov, General Director of Tupolev PJSC. "In the nearest future we are planning to launch the preliminary test program".
In the course of the visit, the Ministry of Industry and Trade and Rostec leaders presented "Honorable Aircraft Industry Worker" award and Ministry of Industry and Trade awards to personnel who contributed to the successful start of the prototype flight tests.
Also, during their meeting, the leaders discussed issues of Tupolev PJSC strategic development, re-engineering of the production facilities and progress of state contracts.
"The program of Tu-160 full modernization is one of the most important state projects. Today we can say about a considerable increase in the efficiency of this aircraft system. In the course of our visit, we have noticed the achievements and presented the awards. We were discussing further steps within the framework of the program and, in general, advanced trends in the development of Tupolev Company, which addresses challenges for modernization of combatant aircraft systems of the strategic and long-range aviation," concludes Anatoliy Serdyukov after the meeting.