20.12.2016
A forum of young specialists of UAC has taken place at Tupolev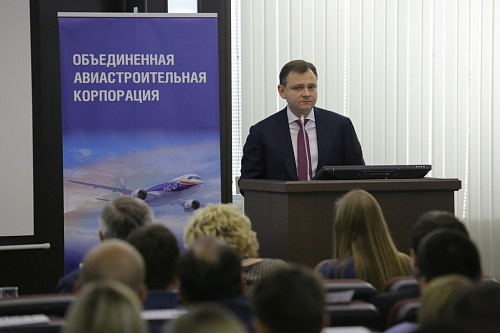 On December 7, 2016 a forum of young specialists of UAC PJSC has taken place at Tupolev PJSC in order to engage young employees of UAC's subsidiaries in accomplishing aircraft production strategic goals.
Young high-potential engineers, designers and workers of UAC's subdivisions from Moscow and the Moscow Region, Voronezh, Kazan, Nizhny Novgorod, Taganrog, Ulyanovsk, Novosibirsk, Irkutsk and Komsomolsk-on-Amur took part in the forum.
In his opening speech, the President of UAC PJSC, Yury Slyusar told the participants of the forum about long-term plans of the Corporation and specially noted that achievement of the goals requires generation of new ideas and creation of brand new approach to the process of aircraft production.
The forum will allow UAC PJSC to build its management candidates pool. The education programs will include three directions of expertise which are a «must-have» for any modern manager: «Lean manufacturing», «Project management» and «Engineering economy».
This forum is a milestone event for Tupolev PJSC engaged in UAC PJSC policy of young employees.