Tupolev Hosts Third Music Festival Tupolev Fest – 2019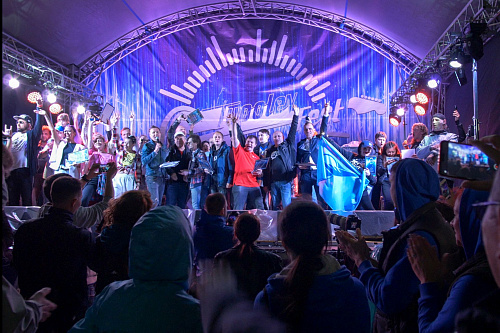 Tupolev PJSC, a part of the United Aircraft Corporation, announces that the third music festival Tupolev Fest is to be held. The event, which unites on-stage performance groups of aircraft building companies from various regions of Russia, took place on August 9, 2019 in Moscow.
The program of Tupolev Fest – 2019 included 25 music bands and performing musicians of the Russian aircraft building organizations and scientific & research institutes from Moscow, Novosibirsk, Kazan, Samara, Ryazan, Tomilino, Zhukovskiy, Ramenskoye and Staraya Russa. Tupolev Fest – 2019 gave a chance to present their art to the following teams: Kuznetsov PJSC, MIL Moscow Helicopter Plant, Chernyshev Moscow Machine-Building Enterprise, NPP Temp named after F. Korotkov, RPZ JSC, Ilyushin Aviation Complex PJSC, Russian Aircraft Corporation MiG, Novosibirsk Aircraft Production Association named after V.P. Chkalov (a branch of Sukhoi PJSC), NPO Rodina, 123 ARZ, 360 ARZ, and Central Aerohydrodynamic Institute named after N.E. Zhukovskiy (TsAGI). Tupolev PJSC was presented by music bands of the Central Design Bureau, Kazan and Zhukovskiy branches.
Performing musicians, who have been known to the public from previous festivals, came to Tupolev Fest – 2019 stage; among them are Rustem Iskhakov, music bands Ilyushin PJSC, Kot Goroda, Tu-2, Dark Shade, LeverClever. Tupolev Fest – 2019 was also a platform for the first performance by such performing artists as a duet of Margarita Avakova and Sergey Morozov Strekoza, a duet of Nadezhda Semina and Vladimir Kakotkin Inversia, solo artists Yuriy Mizgirev and Andrey Goncharov, bands Zdes I Teper, N0ZERO, ArtVitae, Stargorod, Rezhim Sekretnosti, Sedmoye Nebo, Shans, Tsvetnyye Sny, MAKSiKo, LipmanGroup and Naberezhnaya 17.
It took 8 hours for the festival participants to perform 47 musical pieces in different musical genres including experimental pop rock, punk rock, pop and jazz songs, rock-'n'-roll, heavy metal. The program also included dancing performance by dance groups GARLINK, Aviator, a dance team of Tupolev PJSC and a solo dancer Guldeste Pirmatova.
Music gala Tupolev Fest was conducted at the premises of Tupolev PJSC in Moscow for the third time. The company hosted the first festival in August 2017 on the occasion of the 95th anniversary of Tupolev Experimental Design Bureau. The project turned out to be a success and a decision was made to hold the festival annually. In 2018 Tupolev Fest united 13 on-stage performance groups and artists, and in 2019 there were 25 participants in the festival. The next Tupolev Fest will take place in summer 2020.