Photo exhibition dedicated to the 78th anniversary of Vnukovo International Airport and naming it after Andrey N. Tupolev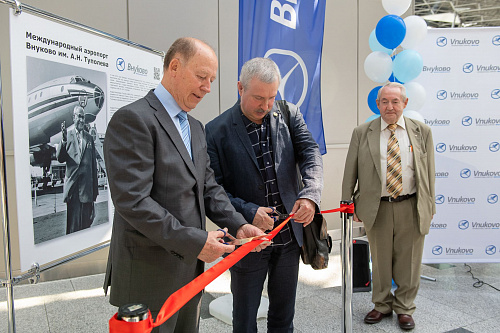 On July 2, a photo exhibition dedicated to the 78th anniversary of Vnukovo airport and naming it after Andrey N. Tupolev, the outstanding aircraft designer, was opened in Vnukovo International Airport. The name of the Soviet scientist, who substantially created domestic aviation and brought it to the world level, was assigned to Vnukovo airport according to the results of the All-Russian competition "Great Names of Russia".
The grand opening of the photo exhibition took place in Terminal A of Vnukovo International Airport. Welcome speeches were delivered by Vasiliy Aleksandrov, Adviser to General Director of Vnukovo airport, and Andrey N. Tupolev's grandson Andrey Tupolev, Adviser to General Director of Tupolev PJSC.
"The history of Vnukovo airport is inextricably associated with the name of Andrey Tupolev. It was from Vnukovo that the first passenger flights of Tu-104, Tu-114, Tu-124, Tu-134, Tu-154, Tu-204 and Tu-204-300 were made, and Tu-104, the first passenger jet of Tupolev design bureau, a monument of which is installed at the entrance gate to the airport, became one of the symbols of Vnukovo. We are very proud that it was our airport that emblematically had the honor of bearing the name of the great designer", said Vasiliy E. Aleksandrov.
In his turn, Andrey Tupolev said: "It is very important to remember the history of your country, especially its prominent representatives who set an example. Andrey N. Tupolev made a great contribution to the establishment and development of aviation and it is rather impossible to think about the domestic aviation industry without him. The assignment of the name of Andrey N. Tupolev to Vnukovo airport is a completely appropriate step in perpetuating the memory of one of the major Soviet aircraft designers".
The photo exhibition includes 16 works dedicated to the history of Vnukovo airport and Tupolev design bureau.
Over 100 types of civil and military aircraft, 70 of which were mass produced, have been developed under Andrey N. Tupolev's leadership. Tupolev and his team were the first in the USSR who designed the all-metal aircraft and intercontinental strategic bomber. Tupolev aircraft were featured in 78 world records, in 28 unique flights, including the flight to rescue the Chelyuskin steamship crew, non-stop flights to the USA via the North Pole, etc.